CyberMACS is a full time 2-year European-funded Master of Science (MSc) Programme (120 ECTS) focusing on "Applied Cybersecurity" to provide solid background in cybersecurity domain with focus on educating future cybersecurity experts to detect, prevent, mitigate, and manage cyber-attacks.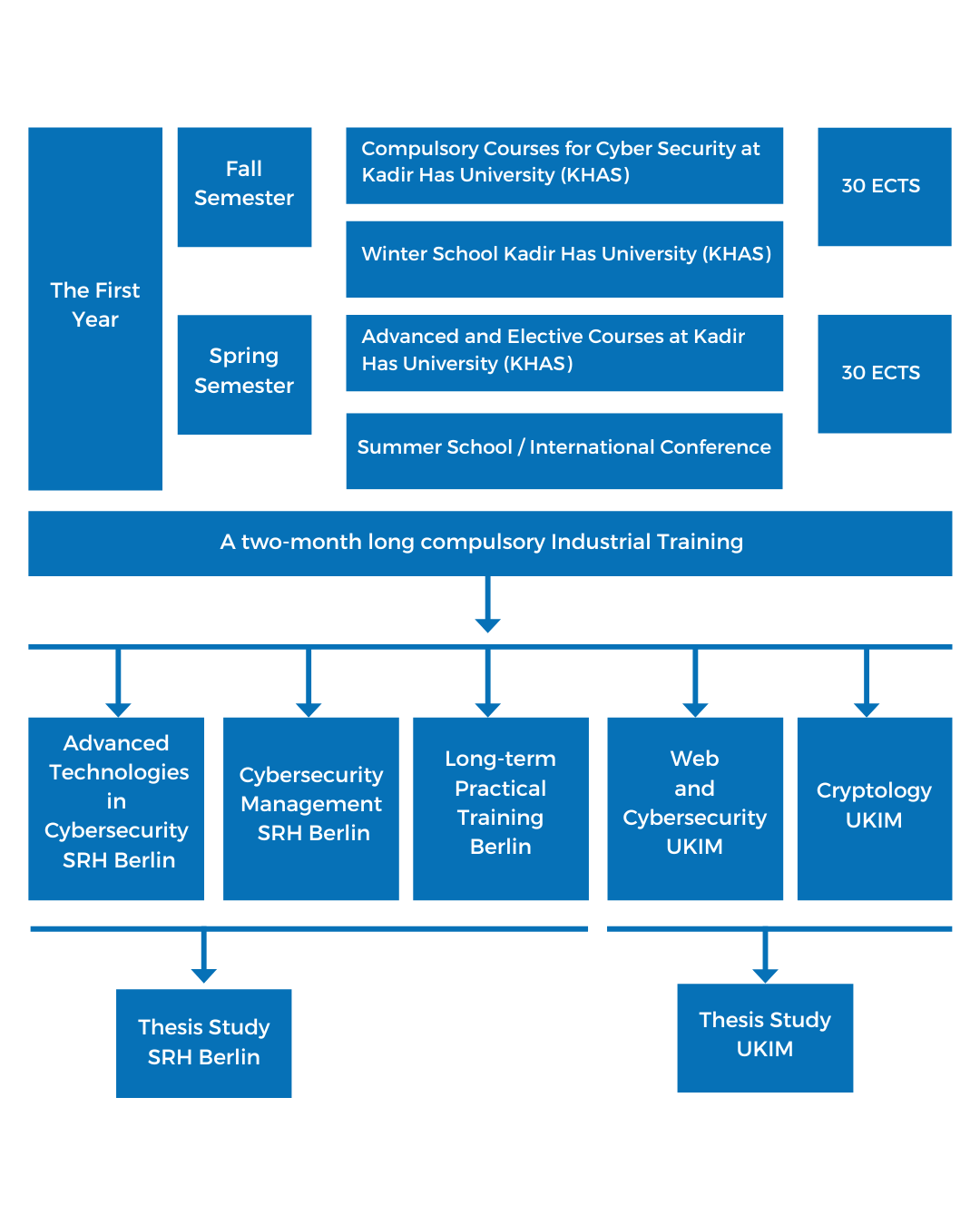 Students will be trained on the basics of cybersecurity in first year in İstanbul, Turkey (Kadir HAS University, KHAS), to complete 60 ECTS.

Between the Fall and Spring semesters there will be a compulsory Winter School lasting a week.
Right after the Spring semester there will be a Summer School for the first Intakes and from the 2nd Intakes onward there will be an International Conference for all students to take part in.
Lastly, in the first year, the students are to complete a compulsory 2-month long practical training in the institutions approved by the relevant committees.
Students who enrol in KHAS needs to complete at least 30 ECTS from one of the full partner institutes before going for a year-long study to another institute.

For the specialization in the second year, students go either to Berlin, Germany (SRH Berlin University of Applied Sciences), or Skopje, North Macedonia (Cyril and Methodius University, UKIM). The specialization areas are below.

Web & Cybersecurity (UKIM /30 ECTS)
Cryptology (UKIM/ 30 ECTS)
Advanced Technologies in Cybersecurity (SRH Berlin / 30 ECTS)
Cyber Security Management (SRH Berlin / 30 ECTS)
Long-term Practical Training on an approved institution (SRH Berlin / 30 ECTS)

Master thesis (30 ECTS).
Degree Options (Two-dual degrees one by KHAS-SRH and one by KHAS-UKIM).