The main idea or the philosophy of Joint European Master Programme is to have students be exposed to different cultures, be trained by as many different institutions and professors as possible, to exchange ideas/experiences with students around the world. Thus, each student in the programme must have at least two compulsory mobilities. The first year of the CyberMACS curriculum is offered by Kadir Has University. The second year will be completed at one of the other consortium universities: UKIM and SRH Berlin. The students enrolling to KHAS; however, can stay at KHAS for the first semester only. A student must obtain at least 30 ECTS from one of the other full partner institutes prior to moving to another full partner institution in the second year of the programme.
The Master's thesis is written under the joint supervision of both the first- and second-year university. The language of instruction in all universities is English.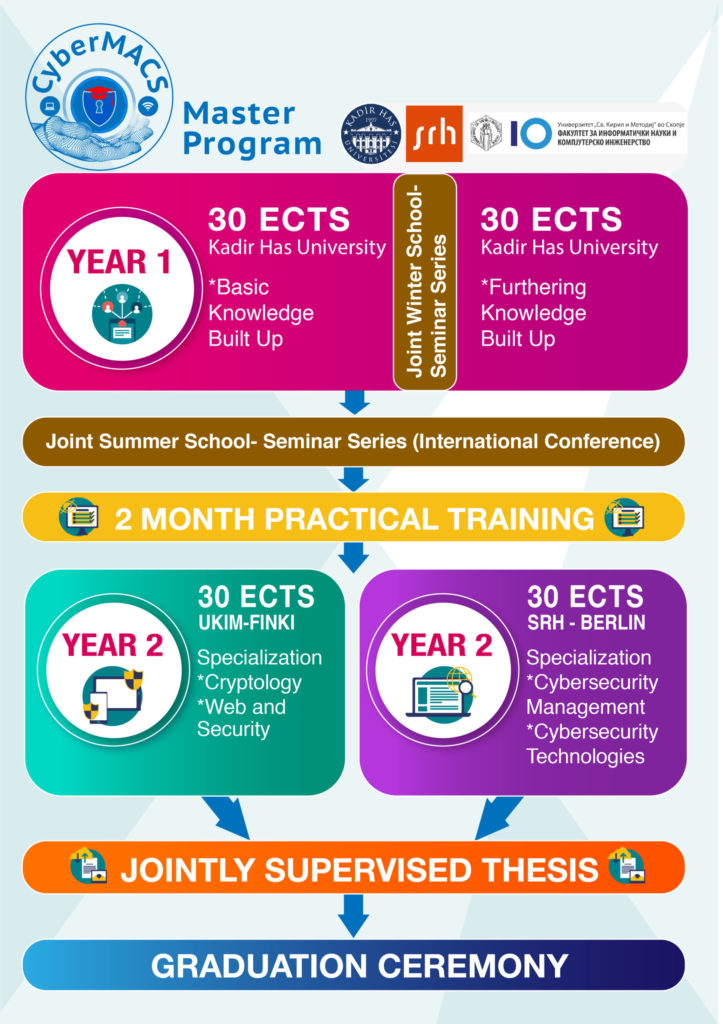 Different conditions apply to students according to their country of residence, in order to comply with the two mobilities regulation: • Students resident in Turkey must fulfil an exchange semester at SRH or UKIM during their second semester of studies. • Students resident in Germany must apply for the track KHAS-UKIM, with specialization either in Cryptology or Web & Cybersecurity • Students resident in North Macedonia must apply for the track KHAS-SRH, with specialization either in Advanced Technologies in Cybersecurity, or Cyber Security Management, or Long-term Practical Training.